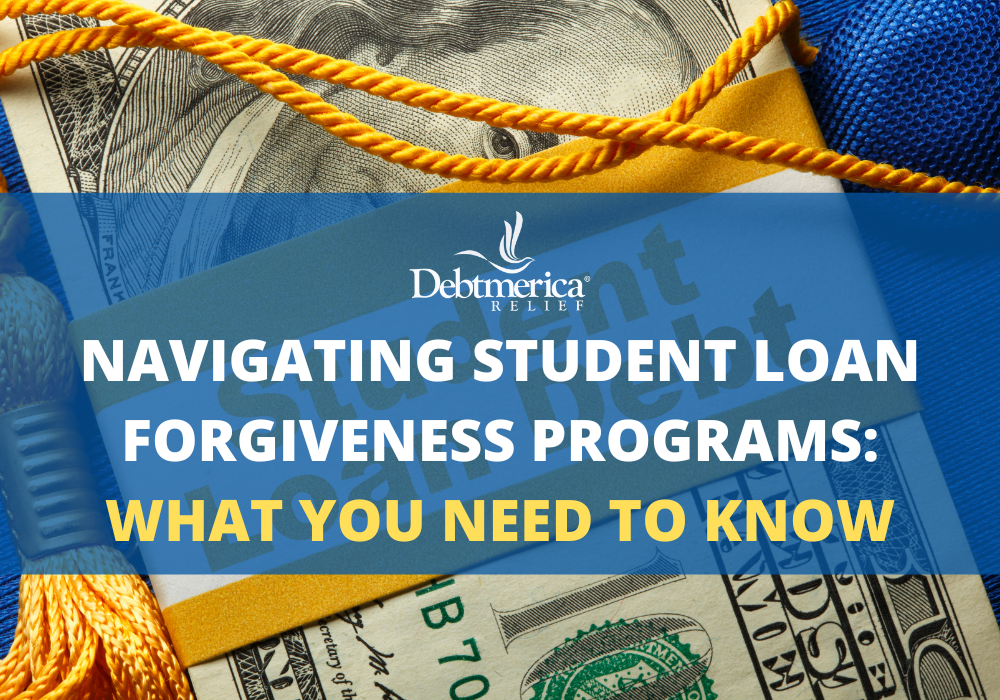 Student loan forgiveness has been the talk of many news outlets lately, especially with President Biden's plan's fate resting in the Supreme Court's hands. If the Supreme Court deems the plan constitutional, then millions of borrowers are set to be forgiven of up to $20,000 in student loan debt. If not, or if a decision is not made by June 30th, then payments will be set to resume in October 2023. Either way, it's important to know all the options available to you, especially if you cannot afford your payments.
Types of Loan Forgiveness
Before we dive into the different programs available, we should first discuss the types of loan forgiveness. You may hear the terms loan forgiveness, cancellation, or discharge and assume they all mean the same thing. While they are similar in the sense that you do not need to repay some or all of your loan with these terms, they do have some differences. Loan forgiveness or cancellation often indicates that you do not need to continue making loan payments because of something related to your job. On the other hand, loan discharge typically means that you are not required to make loan payments because of other circumstances, like your former school closing.
Income-Driven Repayment Forgiveness
Many student loan forgiveness programs have specific requirements to be eligible for them. For example, income-driven repayment (IDR) forgiveness has income requirements. If you enroll in an income-driven repayment plan, your loan payment will be maxed out at a certain percentage of your monthly income. After 20 to 25 years of payments, your remaining debt is eligible for forgiveness. This type of forgiveness would be ideal for those who have big loan balances compared to their income.
Forgiveness for Teachers
Some teachers may be eligible for Teacher Loan Forgiveness if they've worked full-time in a low-income elementary or secondary school for at least five consecutive years. To qualify, teachers must have a federal Direct or Stafford loan that was taken out after October 1, 1998. Qualified teachers can have up to $17,500 forgiven depending on the subject they teach. This program is ideal for teachers who do not have a lot of student loan debt and who do not qualify for the more generous Public Service Loan Forgiveness program.
Public Service Loan Forgiveness (PSLF)
Certain government workers with federal student loans may qualify for public service loan forgiveness. This can include firefighters, teachers, nurses, military personnel, religious workers, government workers, and even some nonprofit workers. To qualify, you must have made at least 120 payments, or 10 years' worth, while working for the government. There are some temporary policies in place with PSLF due to COVID-19, so you should check with your loan provider about your specific situation.
Perkins Loan Cancellation
Some borrowers may have a Perkins loan, which are subsidized loans for low-income students. While this loan program does not exist anymore, borrowers with this loan can still seek cancellation for existing loans. Borrowers with Perkins loans who worked in public service for five years may be eligible for student loan cancellation.
School Closure Discharge
If your school closes permanently, you may be eligible for loan discharge. To qualify, you must have been enrolled or have left within 120 days of the closing date. If you received a degree from the school, you do not qualify.
Total and Permanent Disability Discharge
You may qualify for loan discharge if you become totally and permanently disabled, whether it's mentally or physically. This also includes any parent who took out a loan and becomes totally and permanently disabled. Proof of your disability will be required to apply for this discharge.
Other Types of Loan Discharge
You can also become eligible for loan discharge in the case of a borrower's death, including the student of a parent borrower. In some rare cases, student debt can be discharged in bankruptcy. Borrower defense to repayment allows student debt to be discharged if your school did something or failed to do something related to your student loan. False certification discharge may allow your loan to be discharged if your school incorrectly gives you a loan when you are not eligible for one.
What if I'm not eligible for student loan forgiveness?
Although there are several programs available, you may find that you are not eligible for any student loan forgiveness program. If this is the case, it might be time to start looking at your repayment options. This is especially true if you already find yourself having trouble affording your payments. Debtmerica Relief has over 16 years of experience in providing relief to our clients whose debts have become too much to handle. If you need help with debt, give us a call at 800-470-8155 for a free consultation.
https://www.debtmerica.com/wp-content/uploads/2023/06/DM-Blog-Student-Loan-Forgiveness.png
700
1000
Elyssa Carlos
https://debtmerica.com/wp-content/uploads/2015/05/debtmerica-relief.png
Elyssa Carlos
2023-06-13 08:00:58
2023-06-13 10:28:19
Navigating Student Loan Forgiveness Programs: What You Need to Know